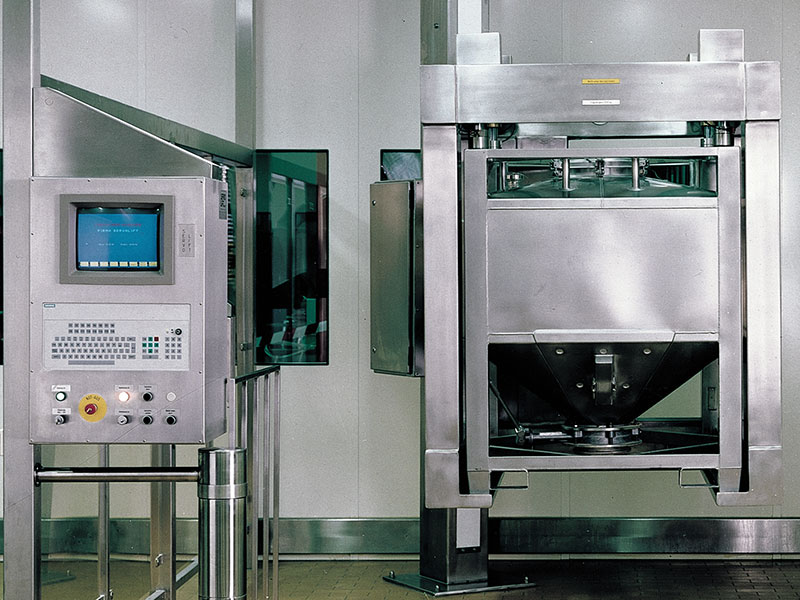 IBC Cage Blenders
Cage blenders are aligned at an angle of 30° to the blending axis, which has proven to provide the best blending results in the shortest amount of time. The IBC is placed on the lower frame and locked using hydraulics through the control unit. This provides appropriate ground clearance for the blending operation.
The container is continuously monitored for secured mounting and accurate positioning throughout the blending cycle. The blending rotation can quickly come to a controlled stop in case of any irregularities and all blenders feature pouring angle compensation to ensure the container is balanced during removal from the clamping system.
C-Frame Blenders with Lift
C-Frame Bin blenders with lifting functionality are ideally suited for integration in the production flow or process automation. The container can be filled from an upper floor by docking on a filler opening. The integrated lifting function enables filling or emptying of drums even with limited clearance on top. After the blending process the container can be lifted for discharging into another container or pivoted for placement onto an upper floor.
Customized pouring devices such as funnels or discharge pipes support this procedure. Suction and/or use of vibration aids can be included based on customer needs.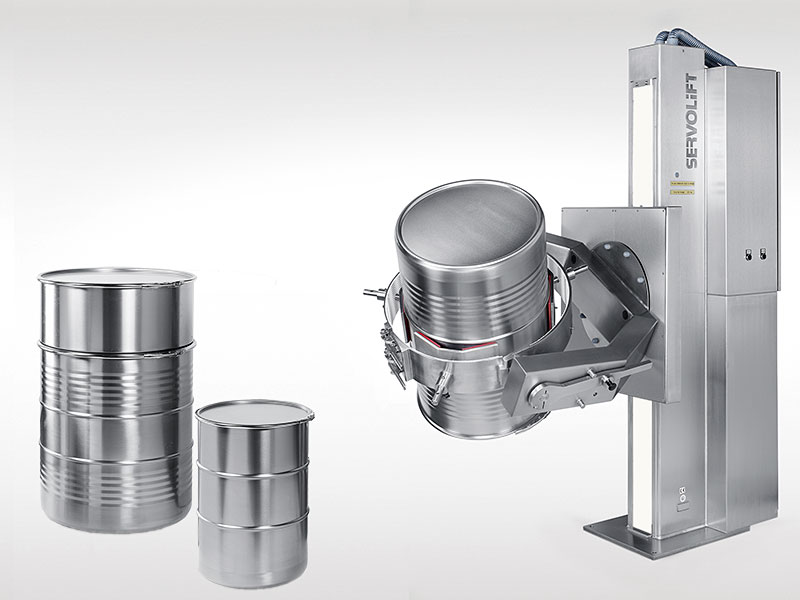 Drum Blenders
SERVOLIFT drum blenders are designed with simple to use features, built in a space saving, compact housing. The blender can be fitted for drums of various sizes. The drum blender can be loaded with pallet lifters. The drums are then placed in the clamping system, secured and tilted manually. Hydraulic fixing and tilting are also available.
For continued processing, the drum blender can include a lift or pivot system. Following the blending operation, containers can then be lifted up and poured into another container placed below, or integrated into another automated process.